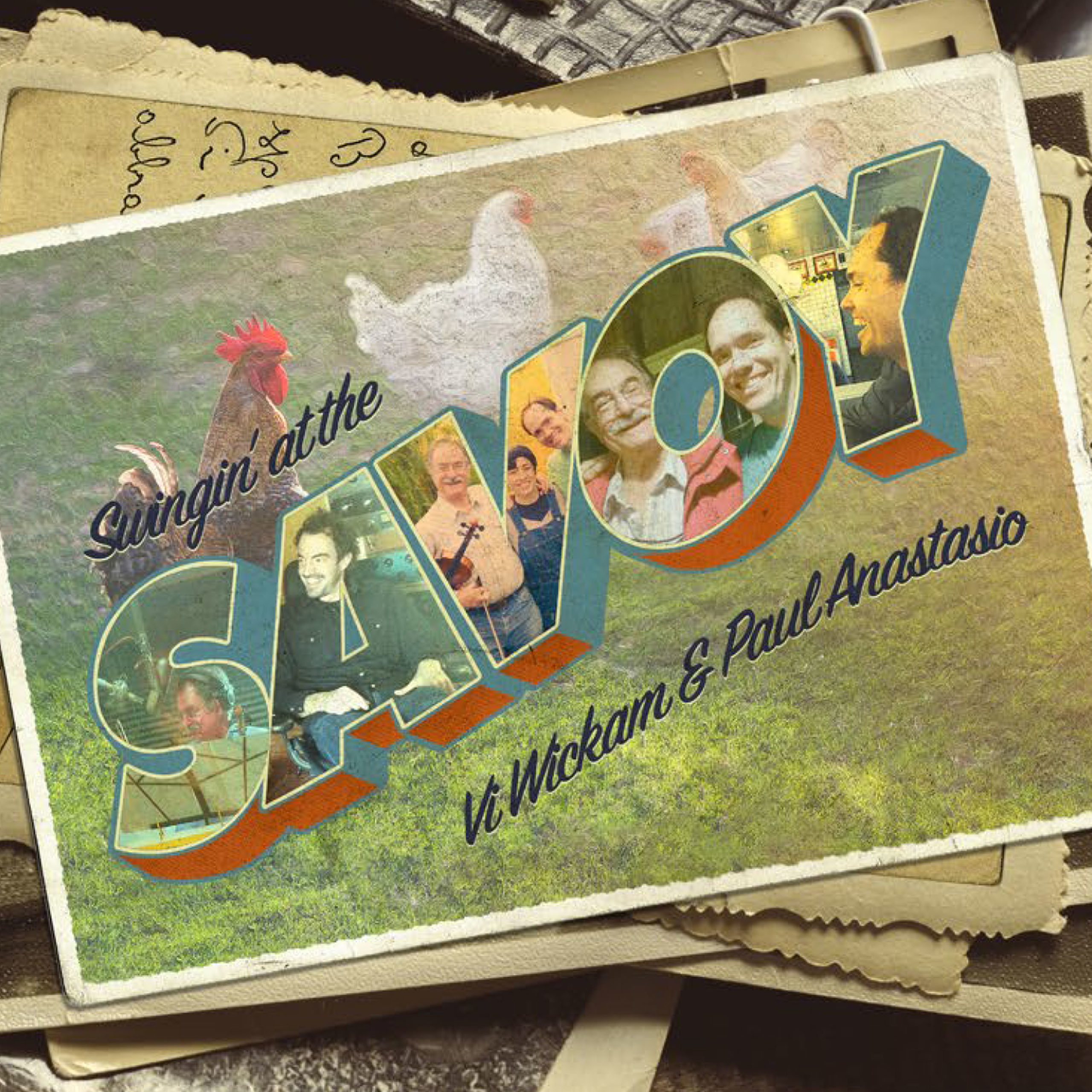 What a journey this album has been! I will share more about this journey with you very soon. 😉
Thank you all for your support as we have brought this album to fruition. I especially want to thank those of you who preordered Swinging at the Savoy, the DJs that played our music on your stations, and even more those of you who interviewed me on your shows.
I'm grateful and honored to be sharing the chart with such a great group of my musical brothers and sisters.
Now for the exciting news: Swinging at the Savoy was the #7 album on the FolkRadio.org Folk DJ Chart! AND we were the #11 artists of the month as well.
Here are the Charts:
 TOP ALBUMS OF JUNE 2020
| Rank | Album | Artist | Plays |
| --- | --- | --- | --- |
| 1 | Cabin Fever: Songs From the Quarantine | John McCutcheon | 107 |
| 2 | Ordinary Love | Ellis Delaney | 97 |
| 3 | 2020 | Eliza Gilkyson | 94 |
| 4 | Western Sun | Nell and Jim Band | 75 |
| 5 | The Night You Wrote That Song: The Songs of Mickey Newbury | Gretchen Peters | 73 |
| 6 | Nonet | The Mammals | 68 |
| 7 | Swingin' at the Savoy | Vi Wickam and Paul Anastasio | 63 |
| 8 | I Have Known Women: Songs by Si Kahn Celebrating Women's Lives and Struggles | Saro Lynch Thomason and Sam Gleaves | 61 |
| 9 | Spider Tales | Jake Blount | 58 |
| 10 | Bet on Love | Pharis and Jason Romero | 56 |
| 11 | Keep on Walkin' | Julie and John Pennell | 50 |
| 12 | Ghost Tattoo | Kristen Grainger and True North | 47 |
| 12 | Alternative Facts and Other White Lies | Mike Glick | 47 |
| 14 | World on the Ground | Sarah Jarosz | 46 |
| 15 | Roots, Rhymes and Branches | Brant Miller | 44 |
| 16 | The Path of Stones | John Doyle | 43 |
| 17 | 25 Trips | Sierra Hull | 39 |
| 18 | Headlight | Della Mae | 38 |
| 18 | Big Blue Sky in the Morning | Barbara Jo Kammer | 38 |
| 20 | Bad for You | The Steeldrivers | 37 |
| 21 | Songs of Our Native Daughters | Our Native Daughters | 35 |
| 22 | Besos Kisses | Colleen Kattau | 34 |
| 23 | Big Road | David Bromberg Band | 33 |
| 24 | Eiderdown | Gordon Thomas Ward | 32 |
| 24 | Brother Sister | Watkins Family Hour | 32 |
| 26 | Character | Rachael Sage | 31 |
| 26 | Home | Billy Strings | 31 |
| 28 | Bitter Better | Laura Cortese and the Dance Cards | 30 |
| 28 | Look Long | Indigo Girls | 30 |
| 30 | We Fit Together | Barry Oreck | 29 |
| 31 | Up Around the Bend | Kim Moberg | 28 |
| 32 | Facets of Folk | Mara Levine | 27 |
| 32 | Ghosts of West Virginia | Steve Earle and the Dukes | 27 |
| 34 | Any Kind of Angel | Jenny Reynolds | 26 |
| 34 | Rough and Rowdy Ways | Bob Dylan | 26 |
| 36 | Blues With Friends | Dion | 25 |
| 36 | Live at the Seagull Shop | Jud Caswell | 25 |
| 38 | Early Morning Rain | Steve Forbert | 24 |
| 39 | Good Good Man | Vance Gilbert | 23 |
| 40 | Waterfalls | Thomas Aaron Garlow | 22 |
| 40 | Freedom Highway | Rhiannon Giddens | 22 |
| 40 | Heartbreaker Please | Teddy Thompson | 22 |
| 40 | Hwy 17 Revisited | Penne Sandbeck | 22 |
| 40 | Waltz for Abilene | Cindy Cashdollar | 22 |
| 45 | Making Life Sweet | The Early Risers | 21 |
| 45 | One Town Over | GF Patrick | 21 |
| 45 | Bravado | Rose Cousins | 21 |
| 45 | Time Traveler | Jason Wilber | 21 |
| 49 | Wings of a Jetliner | Nate Lee | 20 |
| 49 | The Tree of Forgiveness | John Prine | 20 |
| 49 | Pawn Shop Radio | VickiKristinaBarcelona | 20 |
| 49 | Planting in a Drought | Tom Smith | 20 |
| 53 | Ready to Go | Reggie Harris | 19 |
| 53 | Reunions | Jason Isbell and the 400 Unit | 19 |
| 53 | Song Like a Seed | Sara Thomsen | 19 |
| 56 | The Perfect Plan | The Lowest Pair | 18 |
| 56 | Work My Claim | Brooks Williams | 18 |
| 58 | The Family Songbook | The Haden Triplets | 17 |
| 58 | Caught It From the Rye | Tre Burt | 17 |
| 58 | Assiniboine and the Red | The Small Glories | 17 |
| 58 | Darrell Scott Sings the Blues of Hank Williams | Darrell Scott | 17 |
| 58 | Highway Philosophers | Lara Herscovitch | 17 |
| 63 | The Loud Album | Carla Ulbrich | 16 |
| 63 | Doc Watson and Gaither Carlton | Doc Watson and Gaither Carlton | 16 |
| 65 | Chicago Barn Dance | Special Consensus | 15 |
| 65 | The Lockdown Sessions 2020 | Skinner and T'witch | 15 |
| 65 | Concert at the Slab | Cris Cuddy | 15 |
| 65 | Lucky Girl | Claudia Nygaard | 15 |
| 65 | Straight to Morrow | Clint Alphin | 15 |
| 70 | If I Catch My Dream: Songs of Hope for a Better World | Bett Padgett | 14 |
| 70 | Let Love Go On | Mark Dvorak | 14 |
| 70 | Treat a Stranger Right | Frank and Allie Lee | 14 |
| 70 | Hello Stranger | Eliza Meyer | 14 |
| 70 | Me and the Ghost of Charlemagne | Amy Speace | 14 |
TOP ARTISTS OF JUNE 2020
| Rank | Artist | Plays |
| --- | --- | --- |
| 1 | John McCutcheon | 185 |
| 2 | Eliza Gilkyson | 108 |
| 3 | Ellis Delaney | 97 |
| 4 | John Prine | 96 |
| 5 | Bob Dylan | 83 |
| 6 | Nell and Jim Band | 76 |
| 7 | Gretchen Peters | 74 |
| 8 | The Mammals | 71 |
| 9 | Saro Lynch Thomason and Sam Gleaves | 66 |
| 10 | Pharis and Jason Romero | 64 |
| 11 | Vi Wickam and Paul Anastasio | 63 |
| 12 | Jake Blount | 58 |
| 13 | Sarah Jarosz | 57 |
| 14 | Julie and John Pennell | 50 |
| 15 | Mike Glick | 47 |
| 15 | Kristen Grainger and True North | 47 |
| 17 | Brant Miller | 44 |
| 18 | John Doyle | 43 |
| 19 | The Steeldrivers | 42 |
| 20 | Sierra Hull | 41 |
| 21 | David Bromberg Band | 39 |
| 21 | Della Mae | 39 |
| 23 | Barbara Jo Kammer | 38 |
| 24 | Pete Seeger | 35 |
| 24 | Our Native Daughters | 35 |
| 24 | Mara Levine | 35 |
| 27 | Judy Collins | 34 |
| 27 | Colleen Kattau | 34 |
| 27 | Vance Gilbert | 34 |
| 30 | Rachael Sage | 33 |
| 30 | Kim Moberg | 33 |
| 30 | Watkins Family Hour | 33 |
| 33 | Billy Strings | 32 |
| 33 | Gordon Thomas Ward | 32 |
| 35 | Indigo Girls | 31 |
| 36 | Barry Oreck | 30 |
| 36 | Tom Russell | 30 |
| 36 | Nanci Griffith | 30 |
| 36 | Danny Schmidt | 30 |
| 36 | Laura Cortese and the Dance Cards | 30 |
---